Fale com um consultor
A INIT NET pode te ajudar com o seu projeto de implantação, migração ou substituição do seu firewall por um novo modelo da Netgate.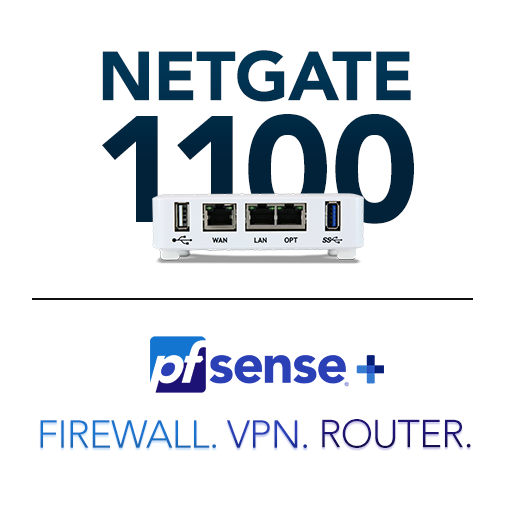 The Netgate® 1100 security gateway appliance with pfSense® Plus software is the ideal microdevice for the home and small office network. With a compact form factor, low power draw, and silent operation it can run completely unnoticed on a desktop or wall. Featuring a Dual-core ARM Cortex-A53 1.2 GHz CPU, (3) 1 GbE ports, and 1 GB of DDR4 RAM, the Netgate 1100 enables up to 880 Mbps routing and 650 Mbps of firewall throughput.
The Netgate 1100 delivers a substantial improvement in pfSense Plus firewall performance relative to its highly popular predecessor, the SG-1000. Consumer and business customers will quickly appreciate this product packs a serious punch with pfSense Plus software, world-class price-performance, elegant packaging, and an unbeatable low price.
L3 Forwarding
IPERF3 Traffic: 880 Mbps

IMIX Traffic: 480 Mbps
Firewall
(10k ACLs)
IPERF3 Traffic: 656 Mbps

IMIX Traffic: 190 Mbps
IPsec VPN
(AES-CBC-128 + SHA1)
IPERF3 Traffic: 74.2 Mbps

IMIX Traffic: 46 Mbps
Netgate 1100 performance tests conducted with pfSense software version 2.4.4-p3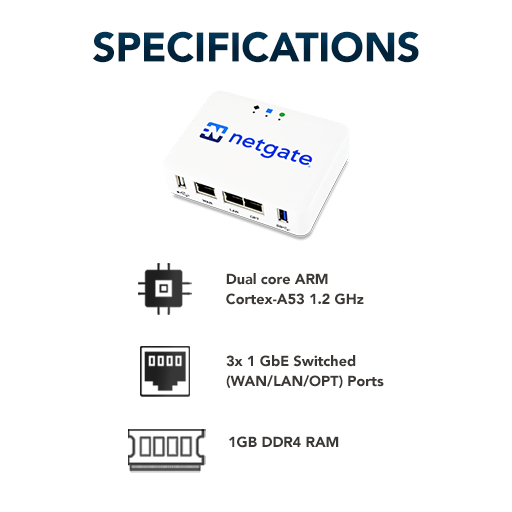 CPU: Underpinned by the powerful, yet energy-efficient, 64-bit Marvell ARMADA® 3720 network processing system-on-chip (SoC), which fully leverages Dual Cortex®-A53 ARM® processor cores.
Network Ports: Marvell 88E6141 networking switch which drives (3) GbE Ethernet (WAN/LAN/OPT) ports
Storage: 8GB EMMC storage.
Memory: 1GB DDR4 RAM, DDR4 memory allows more stable, higher transfer rates for memory-intensive applications (e.g. IDS/IPS). 
Cooling: The passive cooling system and low power draw of the Netgate 1100 provides efficient thermal management and silent operation expected from smaller devices despite its significantly higher performance.
pfSense Plus software provides the performance, flexibility, reliability and business assurance expected from leading secure networking applications:
Up to 10 Gbps performance
Flexible 3rd-party application options
Traditional management mechanisms
Proven reliability
Complete business assurance support
All at a fraction of the cost of proprietary alternatives, pfSense Plus software is the perfect answer. Popular pfSense Plus use cases include load balancing, traffic shaping, captive portal, UTM device, DNS/DHCP Server, IDS/IPS, transparency caching proxy, web content filtering, failover WAN, and much more.
Características Técnicas
Processador: Marvell Armada 3720LP (88F3720) dual core ARM Cortex A53 processor @ 1.2GHz
Memória: 1 GB DDR4 RAM on board
Disco: 8 GB EMMC
Interfaces: 1x Marvell 88E6141 networking switch 3x GbE Ethernet (WAN/LAN/OPT) 1x Mini PCIe slot(1)
Fonte: 12V 2A DC 5.5mm x 2.1mm x 10mm jack
Consumo: 3.48W (idle)
Dimensões: Plástico 110 x 84.6 x 31.75 mm (4.33" x 3.33" x 1.25")