Fale com um consultor
A INIT NET pode te ajudar com o seu projeto de implantação, migração ou substituição de um firewall por um novo modelo da Netgate.n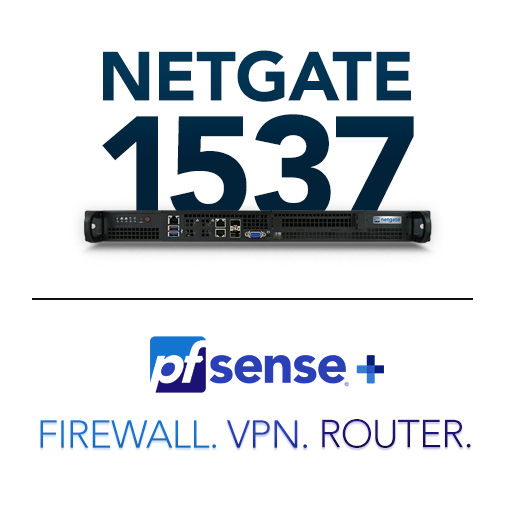 The Netgate® 1537 Security Gateway with pfSense® Plus software is ideal for the medium to large business data centers or server rooms. It features a 1.7 GHz, 8-core, 16-thread Intel® Xeon® D-1537 processor with AES-NI, dual 10 Gbps SFP+ ports and dual 1 Gbps RJ-45 ports. The  CPIC-8955 Cryptographic Accelerator Card with QAT (QuickAssist Technology) can be added to offload encryption processing for improved VPN throughput performance. Other expansion options include a 2- or 4-Port Intel 10 GbE card for additional SFP+ ports or a 4-Port Intel 1 GbE card for additional RJ45 ports. RAID configurations and high availability options make the Netgate 1537 an excellent choice for high-performance throughput and/or mission-critical deployment needs.
Featuring an Eight Core Intel Xeon® 1.7 GHz, upgradable memory up to 32 GB, and expandable network interfaces (up to 8 ports) the Netgate 1537 achieves up to 18.76 Gbps routing performance.
L3 Forwarding
IPERF3 Traffic: 18.76 Gbps
IMIX Traffic: 15.23 Gbps
Firewall
(10k ACLs)
IPERF3 Traffic: 18.75 Gbps
IMIX Traffic: 7.71 Gbps
IPsec VPN
(AES-GCM-128 w/QAT)
IPERF3 Traffic: 6.50 Gbps
IMIX Traffic: 1.68 Gbps
Netgate 1537 performance tests conducted with pfSense plus software version 21.05 RC
CPU: Eight Core Intel Xeon® 1.7 GHz, with AES-NI compatibility, significantly improves encrypted throughput and increases RAM performance by up to 50%.
Network Ports: Expandable up to 8 network ports the Netgate 1537 features (2) 10 GbE SFP+ WAN/LAN via SoC, (2) 1 GbE LAN/WAN via Intel i350-AM2, and support for a 4-Port Intel 1 GbE RJ45, or a 2- or 4-Port X710 Intel 10 GbE SFP+ expansion card.
Storage: 500 GB M.2 SSD
Memory: 8 GB DDR4 (Expandable to 32 GB ECC), DDR4 memory allows more stable, higher transfer rates for memory-intensive applications (e.g. IDS/IPS). Our hardware flexibility allows you to upgrade your memory at any time to 32 GB, future-proofing this appliance.
pfSense Plus software provides the performance, flexibility, reliability and business assurance expected from leading secure networking applications:
Up to 10 Gbps performance
Flexible 3rd-party application options
Traditional management mechanisms
Proven reliability
Complete business assurance support
All at a fraction of the cost of proprietary alternatives, pfSense Plus software is the perfect answer. Popular pfSense Plus use cases include load balancing, traffic shaping, captive portal, UTM device, DNS/DHCP Server, IDS/IPS, transparency caching proxy, web content filtering, failover WAN, and much more.
Características Técnicas
Processador: Intel "Xeon-DE" D-1537, 1.7 GHz FCBGA 1667 supported SoC
Memória: 8 GB DDR4 UDIMM (expandable to 32GB ECC UDIMM)
Disco: 256 GB Micron M.2 SSD
Interfaces: 2x 1GbE RJ45 LAN via Intel® i350-AM2 e 2x 10G SFP+ LAN via SoC
Fonte: 100-240V, 50-60Hz, 2.6 Amp MAX
Consumo: 20 W (idle)
Dimensões: 19u0022 Rack Mount – 1U 1.7"x17.2"x9.8"